Artisan Overnight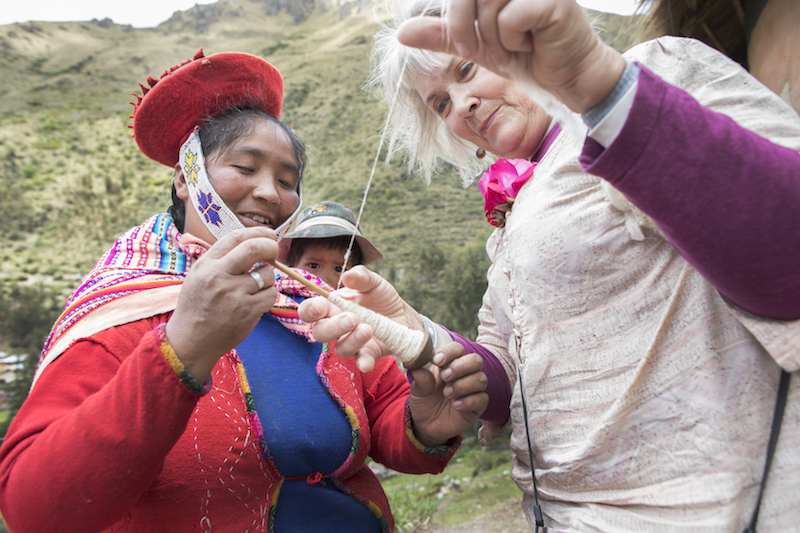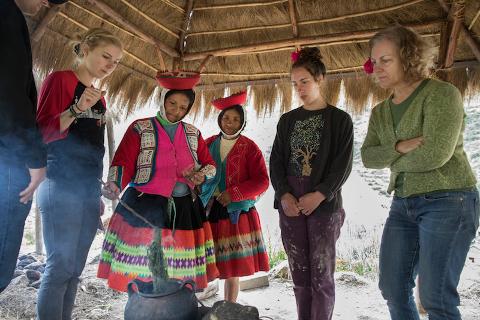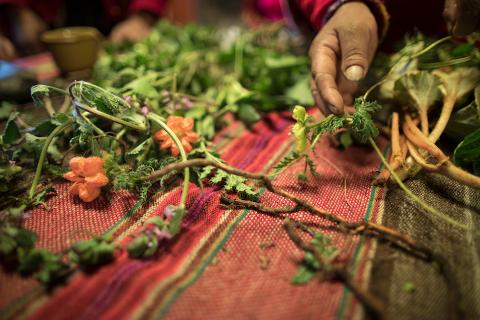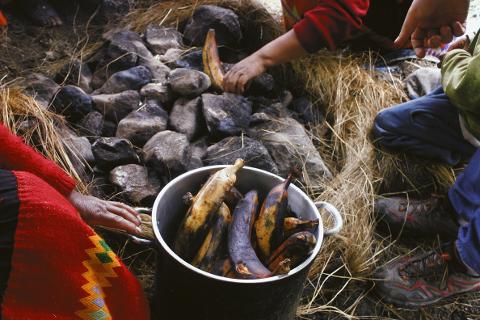 Duration: 2 Days (approx.)
Location: Ollantaytambo, Peru
Product code: ARN
Trip Description:
The trip begins with a beautiful drive, ascending nearly 1000m up an Andean valley to the village where we will stay.
Upon arrival, we will meet the artisan women and learn about the weaving process and the significance of weaving in the Andean culture. The trip includes a demonstration of the entire process, beginning with how alpaca or sheep wool is hand spun into yarn, how local plants are used as natural dyes, and finally how the yarn is woven into the final product. After the demonstration, you will have the chance to try weaving yourself with a 20-minute bracelet weaving class.

We will eat a traditional Andean lunch prepared by one of the artisan women, in her family's home.

Then, we will have another bracelet class learning a more complicated pattern. We will hear how the artisan women learned to weave, and they will teach us the meanings behind some of the traditional designs we see in their work. After the lesson, we will make our way back to our house to spend time with our host family and share dinner with them.

The next morning, after sharing breakfast with our host families, we will attend a ritual alpaca shearing. Time permitting, we will then continue with our lessons before lunch.

For lunch, we will share a traditional Pachamanca, or earth oven lunch, in which our food is cooked underground in an oven of hot stones. Our artisan hosts will then offer a small private market in which you can purchase from them directly if you wish (but there is no pressure to do so as the artisans are compensated for their work hosting you no matter what!)

Finally, we drive back down to Ollantaytambo.

Logistical Information:

Please Note: Because we are a small non-profit, we are not able to guarantee a private tour. There may be other visitors in your tour group. However, most of our tours are very small, between 2 and 6 people.

Itinerary:

Day 1: Leave by 9 am. Day 2: return to Ollantaytambo by 2-3 pm.
About the homestays:

We can accommodate between 1 and 4 people in a homestay. If you are traveling with someone, you will be placed in the same homestay. If your group is too large for the same homestay, we will place you nearby. You will not be placed in a homestay with people you do not know. You will have your own room in your homestay, except for sharing with people who are already in your group. You will not share a room with members of your host family. Your Awamaki guide will stay in a different homestay in the village.
Most homestays do have shared bathrooms. Facilities include a toilet and running water, but accommodations can be rustic, including dirt floors or a cooking fire. Facilities do not always include a hot shower. Host families provide bottled water. Please bring a refillable water bottle. If you have a special request for your homestay, please note in the "special instructions" section when you book.

You do not need to bring a gift for your homestay. If you want to bring something, you can purchase some fresh fruit in Ollantaytambo before you depart, as this is not readily available in the villages. However, this is not expected or necessary.
Food:

Lunch and dinner will include:
Typical Andean meal including appetizer/soup, main entree, native Andean herbal tea
Breakfast includes:
Typical Andean breakfast
The Pachamanca Earth Oven Lunch includes chicken.

Packing list:
Sleeping bag: optional but recommended if you have one
Hiking boots or sturdy shoes for mud
Spare shoes recommended but optional
Small bills in soles if you plan to purchase from the artisans
Warm layers and rain layers
Snacks (chocolates and sweet things for the cold)
Refillable water bottle.

Transport: Pick up and drop off are in Ollantaytambo. We hire private transport with experienced drivers. If you are coming from outside Ollantaytambo, we recommend asking your hotel to assist you in arranging transport to Ollantaytambo. We can help you arrange your transport back. Please note any special transport needs in the special instructions section of your booking form.

Special requests:
We can accommodate most special requests. We can accommodate nearly all dietary restrictions. Please note special requests or dietary restrictions in the "special instructions" section when you book. We will contact you if we are unable to accommodate your request.
Scheduling requests: Sometimes we can accommodate late departure (11 am) departure times, or early return times (by 1pm). Please note your schedule request in the "special instrucions" section when you book. We will contact you if we cannot accommodate your requests.

Other travel needs: If you need transportation from Cusco to Ollantatyambo, your hotel will be able to arrange this. You can also find instructions here for using a shared taxi or buses. We are unable to arrange transportation from Cusco to Ollantaytambo. However, we can help you arrange transportation from Ollantaytambo back to Cusco. Just ask your guide during your tour. We can also bring your luggage on the tour if you are in transit, or store them securely at our office.

We can usually accommodate late departures (11am) for a $20 fee. Please select this option when you book.
Extended stays and custom trips: If you would like to extend your homestay, please contact us at tours@awamaki.org. We can create custom itineraries based on your interests. We can also arrange extended stays in the villages for an immersive and unique travel experience.

Solo travelers:

If you are traveling alone and would like to book a tour, book for two people and then at check-out use discount code: SoloTravelerON for 23% off.